Where Nature Meets Adventure
Learn More About Our Ranch Below! 
Our Mission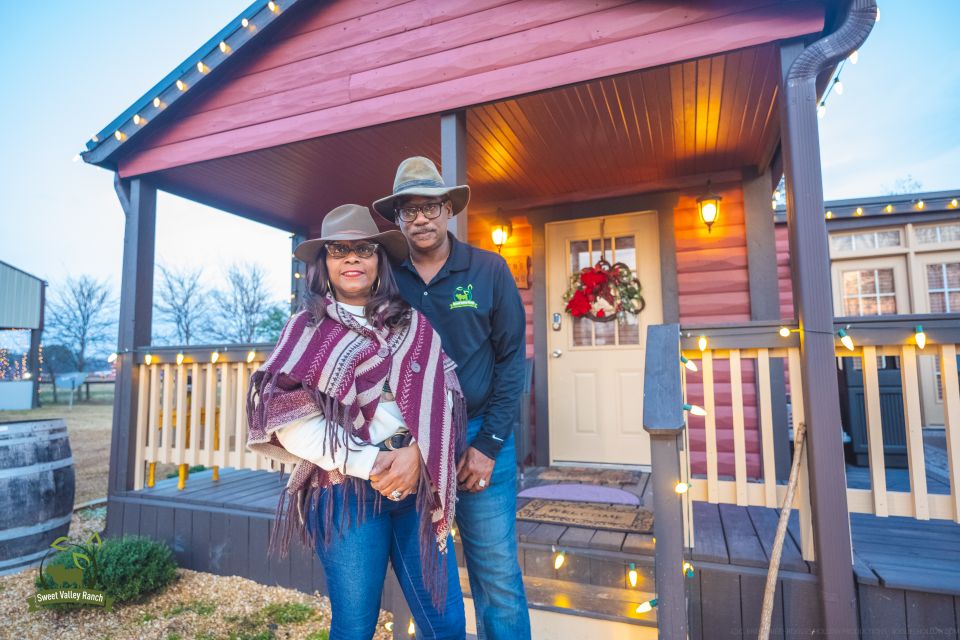 It is our mission to share the Sweet Valley Ranch experience with people in and around North Carolina through our event venue services, annual attractions, animal sales and other community related activities.  We shall continue developing a ranch/farm that is in complete harmony with the surrounding lands and promotes freedom of spirit, personal growth, and an appreciation for family and giving back to our community.
Sweet Valley Ranch is a USDA licensed meat processing farm located on over 300 acres in Fayetteville, North Carolina, owned and operated by Fred & Anita Surgeon.  It is a division of Surgeon & Associates, Inc. The Surgeons have relied on their roots in agriculture, vast business experience and love for animals to develop a farm that the entire community and surrounding areas can enjoy.

Located just a few miles off I-95, Sweet Valley Ranch can be best described as the place where nature meets adventure. Sweet Valley Ranch is home to 350 animals.
The property includes the following:
(12) Livestock animal paddocks totaling over 35 acres of land
3 Hay fields amounting to 30 acres
65 acres of agricultural crop fields
Animal Nursery
Peacock Aviary
Pigeon Loft
Macaw Aviary
2 Rabbit Houses
Reptile House including Koi Pond
Aldabra Tortoise Enclosure
Patagonian Enclosure
Pot Belly Pig Enclosure
Swan Enclosure
Duck Enclosure
Climate Controlled Dog Kennel
Hay Barn
Workshop
Farm Office
Tiny House- "Pecan Lodge"
Log Cabin- "Queen's Landing Log Cabin
Outdoor Pavilion- "Queen's Landing Pavilion"
Multi-Purpose Building- "Cattleman's Loft"
Roadside Produce Stand
Gift Shop
3 Ponds (One Large Koi, 2 stocked with Bass, Catfish and Brim)

Sweet Valley Ranch uniquely features exciting seasonal adventures for the whole family. Yearly seasonal events at the ranch include Dinosaur World, where you are transported back to prehistoric times. Guests will explore over 35 life size dinosaurs with the majority being animatronic.  The tour also includes a prehistoric museum, and your children can enjoy a fossil dig to top off fun exploration.

Stick around for nightfall for the thrill of our Backwoods Terror Ranch where our farm is transformed into a frightening adventure sure to elicit some screams!  Backwoods Terror Ranch is one of the largest outdoor Haunted events in the area.  It will take guests over an hour to navigate 6 terrifying mazes including a ¼ acre cemetery.

Wrapping up each year, you must join us for our holiday celebration with our Festival of Lights. The farm is lit up from beginning to end and is a true winter wonderland. Santa has even been known to stop in for a visit.

Each of our events features our farm animals to create a truly one-of-a-kind experience that people of all ages can enjoy.
 
Sweet Valley Ranch uses a variety of equipment and vehicles: 1996-Massy Ferguson Tractor, 2017-New Holland Tractor, 2014-Back hoe, 2017-RAM 5500 dump truck 4-ATVs, Polaris Ranger, Polaris Razor, Golf Cart, 6-Go-Karts, etc.  Fred Surgeon received his father's tractor (1960 Farmall-140) when he passed away.  This tractor belonged to his Grandfather and has been in the family for over 50 years.  The tractor was shipped to Connecticut and completely restored.  In addition, Fred Surgeon restored his father's 1983 Chevy Truck "Big Red"