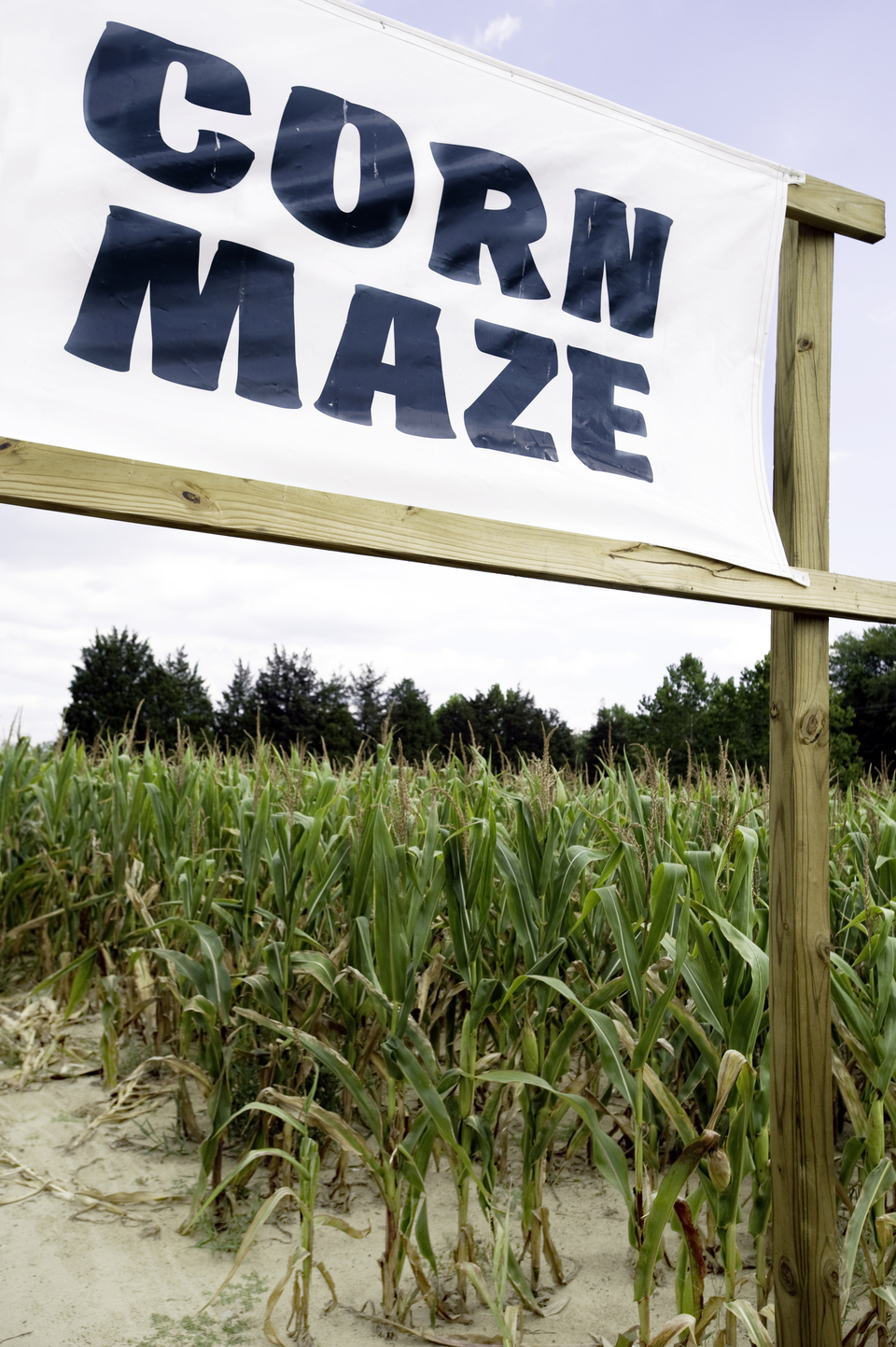 Get Lost In The Fun 
Admission includes:  Our 10-acre corn maze, hay bale maze, hay ride, Tiny's Game Court
, multiple inflatables including a water slide weather permitting, kiddie train track ride, Sky Fighter, Rockin' Tug Boat, and an animal meet and greet area.

Tickets are available for two time slots:  10am-2pm or 2pm-6pm.  Guests can arrive any time during the time slots however, we encourage you to arrive at least two hours prior to the end of the time slot.

Go kart, train, and farm tours are available on a first come, first serve basis and are not included in the price of admission.  These tours can ONLY be purchased on site.

Guests can also purchase souvenir photos, pumpkins, face paintings, carnival games, dinosaur rides, train rides, and corn cannon games.  For your convenience, our gift shop and concession stand will be open.
Tiny's Corn Maze Tickets 
10:00am-2:00pm     $20  for ages 3+

2:00pm-6:00pm       $20 for ages 3+

Go Kart Tickets:     $12 Per Kart
* Drivers must be 16. All go karts are 2 seaters 

Farm Tours:    $4 (3 & up)

Train Tours:     $1 (3 & up)

Dinosaur Rides:      $1

Face Painting:    $5 (small)     $10 (large)
Where can I purchase Tickets?
You can purchase tickets  on our website: sweetvalleyranchnc.com
You can also purchase tickets on site at our ticket booths
TICKETS ARE NON-REFUNDABLE.
Ticket Cost?
$20.00 per person for ages 3+
2 and under are FREE
Days and Hours of Operation?
Saturday & Sunday 10am-6pm
Are there certain ticket times?
Yes! You can purchase morning tickets from 10 a.m. to 2p.m. or afternoon tickets from 2p.m. to 6p.m.
When does Tiny's Corn Maze Open?
September 10th, 2021
Can we bring animals?
No personal pets.
However, Documented Service animals are permitted.
Military & Senior Discount?
We do offer a 5 dollar voucher for every valid military & regular ID, that can be used to purchase other attractions, and items in our gift shop.
Last Day for Tiny's Corn Maze?
October 31st, 2021
Go Kart:
Drivers have to be 16 years of age to drive.
Passengers need to be 3'6" and have to wear an helmet
How much are Go Karts:
$12.00 Per Kart
What is included in the General Admission?
Corn maze
Hay Bale Maze
Hayride
Inflatables
Carnival Rides
Pumpkin Patch (pumpkins sold separately)
Sweet Valley Ranch Animal Meet n' Greet
Tiny's Game Court
Fossil Dig
What is the Farm Tour and How much is it?
The farm tour is a narrated tour that shows all of the animals we have at Sweet Valley Ranch.
$4.00 for ages 3+
Train Ride Cost
$1.00 for ages 3+
What if there is a call for bad weather in the forecast?
If the park is closed due to bad weather… DON'T PANIC! You can come on another day when we are open and redeem those tickets! If bad weather is in the forecast we will let guests know ahead of time by posting on our Social Medias and our Website!
So Much To Do At Sweet Valley Ranch!
There are 4 Ponds on the Ranch
Three ponds are located in the "Queen's Landing" area (named for Anita Surgeon)
There is a tiny house- "Pecan Lodge"
Log Cabin- "Pine View Cabin"
(7) 2-1/2 acre paddocks (Sunnyside Field, Betray Paddock, Charleston Field, Mouse Alley, Barron Field, Windmill Field and Pear Tree Field)
1,800 square foot multi-purpose building
3,800 square foot hay barn
Roadside stand, multiple animal barns, dog kennel
 20 acres of hay fields
Pigeon Loft, Macaw Aviary, several chicken coops
 Gazebo and 6,000 square foot base camp area.